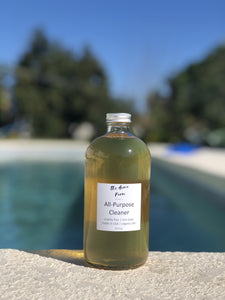 Our All-Purpose Cleaner is an organic cleaning concentrate: a multi-use GREEN cleaner that is safe and mild on YOU!
Use to clean counters, floors, woodwork, tile or other household surfaces- pretty much any water-safe surface!
It contains no Sodium Lauryl Sulfate or other detergents, alcohols, artificial colors, fragrances, or preservatives. Absolutely no chemical or synthetic ingredients are ever used.
Works best in warm to hot water.