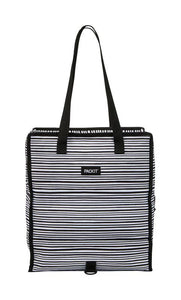 Product Description
Keep perishable groceries fresh and safe while you run errands with this genius cooler shopping bag. The cooling power is built into the base of the bag so there's no need for ice packs to keep items chilled. From the checkout aisle to your kitchen, your meat, dairy, fruits, veggies and frozen foods stay safe so you don't have to stop home to unload them. This grocery cooler bag also offers plenty of room on the top to carry non-perishable items. Perfect for communities with plastic bag bans, this soft cooler bag is an everyday essential.
Built-in freezable gel in the base of the bag keeps items cool for hours (depending on external temperatures).
To use, simply fold the PackIt lunch bag flat and store in the freezer overnight (12 hours)
Made from nontoxic poly canvas; food-safe water-resistant lining.
Zip closure locks in cool, dry air.
Top of the bag fits nonperishable items.
Specifications
BAG FRZBLE BLK/WHT PCKIT
Brand Name: PACKiT
Product Type: Lunch Bag Cooler
Capacity: 23 L
Color: Black/White
Number in Package: 1 pk
Width: 12.75 in.
Height: 14.5 in.
Length: 7.75 in.
Material: Polyester
Click here to see the Safety Data Sheets for this product